May 07, 2015

Shelter Co.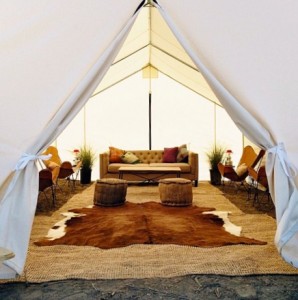 Each year we produce a conference in an intimate location for a group of Fortune 500 CEO's and Investment Bankers. The client loves the venue and has committed to holding the event there through 2017. As the popularity and attendance grows in the coming years, we will be faced with the creative challenge of how to come up with more meeting space to accommodate the increasing demand for breakouts and private meetings. Simply put, we've run out of space!
As we looked ahead at this scenario, we asked ourselves a number of questions. What does the space need to facilitate for the user? What kind of experience will make their connection and interaction with one another feel personal, productive and conducive for conversation. The obvious answer would be a room in a gorgeous setting with natural light, fresh air and groupings of soft furnishings.
Enter Shelter Co.
We've been following this company's evolution for a while. They fabricate beautiful small canvas "structures" that can be fully furnished. These are not your average camping tent. Their VIP model could be a perfect solution to our challenge. It features a high pitched roof so you can stand inside, circulating freely and repurpose for a number of fun uses.
This offers a creative way to Make Space and will hopefully create an inviting environment to support conversation in a casual, sophisticated and unexpected space.