Nov 14, 2013

Check it out! Noteworthy items for Event Planners – Photo Booths Reinvented

This past weekend my colleague Mary Sullivan and I had the privilege of seeing Hillary and Chelsea Clinton at a fundraising event for the Clinton Foundation. I like going to these types of events to help support causes I believe in, and, let's be honest, to see what other event planners are doing at their events.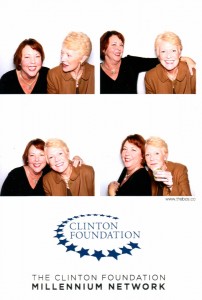 We are always on the scout for new event services, designs and technology to bring to our customers.
While photo booths are nothing new, I was quite impressed with the photo station they had  set up at this event! The Bosco photo and video booths do it right. Their sleek booths are programmed to take digital photos or videos that can be easily uploaded to Facebook and Twitter. What a great way to get your company and event into the social media stream!
Their booths and equipment are elegant, modern, open and inviting for your guests to let    their hair down and have some fun in front of the camera. Check out The Bosco photo booths at http://www.thebos.co