Aug 27, 2013

Planning a Corporate Event? Don't Skimp on the Invitations.

It's hard to believe 21 years have gone by since I first started working with David Eiland at Just For Fun. But when you're just starting out in corporate event management—as I was—and when you find a talented local resource for your printed invitations and event collateral, you don't want to let go of that relationship easily.

I'm glad I didn't! David and his team epitomize customer service. They're personal and responsive, and they're always eager to come up with a creative solution. Bonus: they're right in our neighborhood, so we often walk to Just For Fun when we need to pick up an order. It's always nice to go local!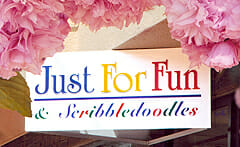 After more than two decades of partnering with David and his team, I finally decided to ask David to describe to our blog audience how he adds value for Wilsonwest clients.
WW: I'll cut right to the chase: in an age of email, is the printed invitation dead?  
DE: No way. Sure, the ability to blast out an e-vite in seconds has somewhat reduced the demand for printed pieces. But stop and think about how most people approach their email nowadays. I start every day by cleaning out my inbox to eliminate all the spam and other clutter. So if someone sends me an e-vite, I may delete it thinking it's junk.
On the other hand, people still have a tendency to flip through each piece of "snail mail" and see what catches their eye. That's just one advantage of using print over email for invitations. 
WW: So print isn't dead—but you're seeing some changes in your business and industry?
DE: Sure. When I first started working with Wilsonwest, corporate money was flowing freely. Companies were putting on huge parties and sending out mass invitations.
Things are different now. Some of the largest corporations aren't doing huge parties anymore—they're focusing on smaller, more intimate events. That means smaller batches of invitations, and more thought being put into whom they invite and how they want to speak to them.
WW: Does that make your job harder?
DE: Actually, it makes it much more interesting. When companies were inviting 1,000 people to massive parties and trying to crank out invitations as cost-effectively as possible, there wasn't a whole lot of room for creativity. And when you're inviting that many people, you can get a crowd to show up almost by accident.
With a smaller invitation list, you really have to make your invitation stand out from the rest of the mail. That means creating something visually appealing—something that makes the recipient say, "Hey, this is a cool event. I'm definitely going to this." Our clients now have to think hard about what kind of look, tone, and messaging they're going for—and so do we.
WW: What are the potential advantages for corporations that are wiling to take the time to develop and send high-impact printed invitations?
DE: With print, there's a genuine opportunity to engage your invitees and get them excited about your event from the moment they check their mailbox. Some of that can come from the texture of the paper and the shape of the piece. You can make the piece graphically appealing with artwork, with colors and fonts, or by including a striking element of some kind.
Of course, one thing I always warn customers about is that they shouldn't skimp on their response card—especially by relying on a postcard response that will be third-class mail and may never even make it back to them. When you're planning an event and need an exact headcount, the information you're getting from your response cards is worth much more than the 30 cents you might be saving by using a postcard reply instead of a proper response card.
WW: But is the printed invitation a tougher sell in our environmentally conscious world? And should we feel guilty about using it?
DE: I appreciate that people are trying to think of the environment, but there's a lot of paper out there that's either recycled or didn't start from a tree in the first place. So you're probably not doing any damage to the earth if you use a printed invitation. For example, CRANE Papers are 100% cotton. There's also some fine paper made from bamboo, wheat, and mulberry.
And you don't have to sacrifice quality, either. Brands like CRANE and Strathmore make top-of-the-line earth-friendly papers. They have fantastic textures, and they take color well.
WW: We've had the privilege of working with you for two decades. How do you think you deliver value to Wilsonwest clients?
DE: All the work I do for Wilsonwest clients is through Wilsonwest. Someone from the Wilsonwest team will meet with the client and define the look and tone of the piece, and then I'll get very clear direction from Wilsonwest. That makes it so much easier to deliver exactly what the client expects. Wilsonwest's incredible professionalism brings out the best in my team, and it's one of the reasons we continue to work with Cindy and her colleagues!
***
Thank you for the kind words, David! We believe Just For Fun keeps us at the top of our game, too, and we appreciate you sharing your thoughts with the Wilsonwest corporate event management community.