Jun 25, 2013

Summer Lifestyle and Wellness Series: Taking the "Coffee" out of Coffee Breaks

While we were planning a Healthcare Leadership Forum to be held at a resort in the Napa Valley, we started brainstorming ideas for a wellness program to integrate into the morning schedule. Yes, the resort had already scheduled some wonderful yoga and Pilates classes during the time our attendees would be there. But because this was such a sophisticated audience, I knew we needed to offer something a little out of the ordinary.

Then it hit me like a bolt of chakra: meditation! I had recently experienced a 21-day meditation series led by the Chopra Center, an organization founded by the renowned Deepak Chopra, M.D. So I reached out to them to see if they might be able to create a customized program for our guests.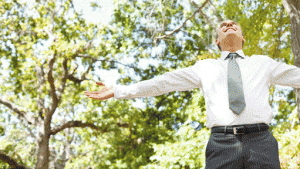 I'm glad I called, because I learned that the Chopra Center has a whole team of experts dedicated to Workplace Wellbeing. They can deliver custom programs designed to help renew mind and body, relieve stress, restore work/life balance, ignite your team's creativity, and unleash your organization's full potential for success.
Talk about strategic event planning! Sure beats coffee-and-a-Danish, doesn't it?
You can get a taste of what the Chopra Center's Workplace Wellbeing programs entail by watching this brief video:
And then for your next meeting break, morning program, or luncheon, consider adding value by offering one of the Chopra Center's courses. Here are a few of my favorites:
Simple Techniques for Stress Management
The link between stress and illness has been well established by numerous medical authorities—and on top of that, everybody knows that stress feels awful. So, how do we get rid of it? According to the Chopra Center, when we use proper breathing and meditation to tap into our inner silence and wisdom, "an infinite number of solutions can arise."
De-Stress at Your Desk (or in the conference chairs!)
Don't you hate that feeling you get when you stand up after a two-hour stretch at the computer and realize you've been holding tension in your neck, back, and shoulders the entire time? The Chopra Center has an answer for that, too, with a course that teaches a simple, seated form of yoga designed to "energize the body and clear the busy mind."
Nutrition: Food as Medicine
You can't control what your employees eat—and you probably wouldn't want to. But you can help them make smarter choices that enhance their overall health while reducing the impact of medical bills and lost productivity on your company's bottom line. This course will give your staff a refresher in the key principles of healthy, balanced eating.  
So, are you planning a corporate event? Could you benefit by incorporating modern science and timeless teachings in ways that deliver an unusual level of value to your attendees? We would be happy to tell you more about what the Chopra Center has to offer. Or if you'd like to get in touch with the Center directly, contact Robert Gonzalez at robert@chopra.com