Jan 29, 2013

Designing an Environment That Builds Connections: Corporate Event Planning

In my last blog about relationship building at corporate events, I mentioned the importance of environment. How do you design an environment that facilitates conversations? The answer depends on who you're trying to build relationships between.

One event that comes to mind is a corporate event for a Global 50 Technology firm.   The C-level audience is comprised of executives, most notably a global contingent of CEOs from many of the largest firms in the world, across multiple business sectors.

The host technology company is all about connectivity, so connecting guests at their corporate event was important. We understood that not only were we building relationships between them and their clients, but also between the clients themselves – clients whose experience came from different industries, cultures, and walks of life.

Stick with me – I'll explain how we did this in a minute.

One of the challenges with special events is the limited time period guests have to unwind enough that they're willing to have authentic conversations. Have you ever been on a vacation and it took you three days to relax? And then other times, you arrive and immediately feel as if you'd just sunk into a warm bath – the atmosphere embraces you and immediately sets you at ease. If you understand your audience, you should be able to create an environment that allows people to quickly loosen up and connect.

So here's how we did it : we designed the stage in the round.  Typically, when you listen to a speaker, the people in the front are always nearest the speaker (and most engaged) and the people seated in the back are always farthest away (and least connected).  But for this event, the stage moved.

So no matter where you sat, at any given time you were closer to the speaker. Participants pivoted in their chairs as the stage moved. The staging connected everyone to the content, inviting all the guests to engage in the conversation. Like the seating at King Arthur's round table, this arrangement gave everyone equal importance.

And speaking of round tables, you can extend that dynamic to dining tables, taking into account how far people are from each other, as well as how they're served. For example, at this event, certain courses were served family style, encouraging guests to connect by virtue of sharing food.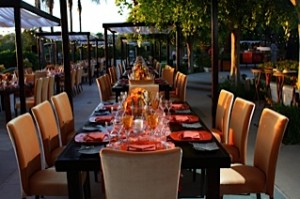 Over our twenty years at Wilsonwest, we've learned lots of tips and techniques when it comes to designing event environments. I'll share more with you in my next blog post. So watch for it next week!