Jul 10, 2009

How to Cook a Wolf

M.F.K. Fisher's How to Cook a Wolf spoke to a nation at war and in the throes of rationing during WW II: a time when many felt the proverbial wolf at the door. But its central message, extolling the virtues of simplicity, still resonates today. "Since we must eat to live," Fisher wrote in a postscript to the revised edition, "We might as well do it with both grace and gusto."

I have long believed in the virtue of the family table and the power of food to transform. Beautiful food served with grace and eaten with gusto carries the ability to bridge diverse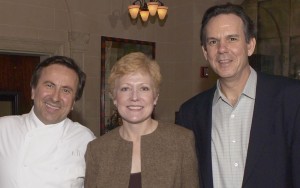 cultures. When Americans return from travel to Italy or France they will often remark on a leisurely lunch they experienced in which conversation (rather than time) remained king. I do hope the movement toward sustainability, slow food, and simplicity bring this tradition back to our culture.
On a higher note, I often imagine what table and environment might be set to help foster peace in the Middle East. I invite you to share your thoughts here with me and let's send them along to the likes of Thomas Keller, Alain Ducasse, Matsuhita Nobu, Alice Waters, or the spikey-haired "diner" guy on the Food Network.